Friday Follow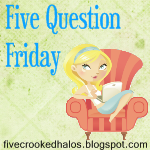 Welcome to Friday Follow and Five Question Friday
I'm so glad you decided to stop by the chaos we call life!
If you get a chance make sure you enter my
3 cups book review
and giveaway.
Also if you know someone who has a medical condition that you'd like to raise awareness for please join in on the
blog hop.
Also today is 5 question Friday. Here are the questions for this week. When you are done head on over to
Mama M's
. She rocks and you will love her!
1. Have you ever had a celeb sighting?
Lots I grew up by Oakland and San Francisco after all. The latest one though was Montel Williams. I was his bank teller one day during the Sundance Film Festival. That was over 5 years ago.
Oh wait never mind. Some disney celbrity girl came to Colby's hospital room on a film promotion while he was there. I can't remember her name.
2. What temperature do you keep your house?
68 degrees during the day 65 at night.
3. Do you notice dust at other peoples homes?
I don't know. I've never really thought about it before. I guess I don't.
4. What's the worst job you ever had?
A short order breakfast bar cook for JB's. I worked there for three weeks while starting another job. As soon as I had my first paycheck I quit. Five other people quit the week I left. It was a horrible place to work.
5. What is your most sentimental possession?
I have a key chain my uncle gave me right before he died. He was 29 and I was 16. I also have my teddy bear my dad gave me for my first birthday. It was bigger than I was.
There you have it, I hope you have a great Friday!
Here is a link to the newest donation button for Colby's fundraising account. This ebook is for fondue recipes.