5QF and Friday Follow 2/26/10
Before we get started I have to say a HUGE Happy Birthday to my sister Megan! I know I won't get to see her today (even though she only lives 20 minutes away instead of 3 states away now) because I don't want her daughter to get what the sickie ickies have! So Happy Birthday I'll see you soon and I love you!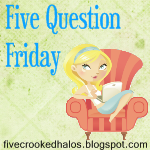 Head on over to
Mama M's
when your done reading this and check out her site. She rocks!
Special thanks to: Lily, Thorney her London, Maryanne, Renee, and moi! Do you wanna be linked in a future 5QF?
1. Do you sing karaoke? If so, what is your go to song?
I have NEVER sang karaoke and I never will. Something to do with I don't speak well in front of people so I'm sure as heck not going to sing well in front of them. I'm not even horrible enough to make it be funny. It would just be pathetic. I'd probably end up crying of embarrassment or something.
2. What is your favorite coffee drink?
I don't drink coffee so can I say Diet Pepsi? Its that whole Word of Wisdom which if your interested in finding out more on you can go to www.lds.org and search away to your hearts content.
3. If you could choose your own name, what would it be?
I used to want to change my name when I was little. I wanted to change it to Eryn. Yup same name different spelling. I think Erin just fits me. Don't know why but it's my name and I'm sticking with it.
4. Were you ever bullied?
Sort of. I had one girl tell she was going to beat me up if I didn't stop talking about her friend. Thing is I never said anything about her. So I don't know where she got the idea I was trash talking. Oh well high schools over with. Thank goodness. There's probably a reason I haven't been to a single reunion and don't plan on going back to one.
5. How often do you eat fast food?
I used to eat fast good a lot! Then I got really determined and went on the HCG diet. I lost 50 pounds over 6 months. Now I hardly ever eat it. Except for today when I'll probably have it twice!
I have to take Colby to get his feeding tube replaced. It takes 3 people in the special procedures lab at the children's hospital. It's really, really fast but the drive is two hours down and two hours back and I thought I remembered seeing something about stupid snow in the forecast. Man I wish spring would get here soon.

So now that I've spilled my guts we're off to try to find more new and cool blogs to follow on the Friday Follow Blog Hop!

Welcome to the Friday Follow celebration hosted by One 2 Try, Hearts Make Families and Midday Escapades! We invite you to join us every Friday to get more blog followers and to follow other interesting blogs. It is all about sharing and having fun.

Here's how YOU can join the celebration:

--Link up your blog name and URL using the MckLinky below. Only need to add on one blog to be seen on all the blog hops.

--Follow the Friday Follow hostesses listed in the first 3 slots.

--Follow as many blogs as you'd like.

--Take a moment to comment on the blogs telling them you're from Friday Follow.

--Follow back when you get a new follower through Friday Follow.

The Blog Hop is the same at each of our three hosts blogs so you do not have to add your blog at each site. Just one - but you can follow each blog. Follow a few or follow them all.

The list is new each week. The links do not carry over. Please link up each week for new participants to find your blogs. The list is only open to add your blog links on Fridays. It will be visible all week to visit the blogs listed.

As hostesses, we realize the time required to participate in Friday Follow. Due to the overwhelming number of entries each week, we understand everyone may not be able to follow every blog including ourselves. To keep it fun, follow what you can at your own pace. We appreciate your understanding and thank you for your continued participation!"







Here is a link to the newest donation button for Colby's fundraising account. This ebook is for fondue recipes.