5QF and Friday Follow 3/5/10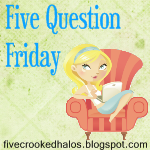 Head on over to
Mama M's
when your done reading this and check out her site. She rocks!
I am so excited! I got to be one of the question askers this week. Never mind that asker is not a real word. I don't want anyone raining on my link parade! J/K! I'm not sure where the week went but since it's Friday I better get busy and answer these questions!
1. What's your guilty pleasure?
Blog stalking! Okay not really stalking. I really enjoy reading other peoples blogs. I like to "meet" other people and hopefully see somebodies else's life that might be a little more crazy than mine. I
t makes me feel better about myself!
Ok not really.
But since I have a lot of time to sit around with Colby and hold him and watching Max and Ruby doesn't really hold much interest for me. I read blogs on the laptop.
2. What is your favorite TV series?
Smallville and Bones
It's really a tie. Or it was until this seasons Smallville went and got all crazy. I haven't watched this seasons bones since I watched the first four seasons on Netflix. Now I'm super bummed and can't wait for season five to come out on DVD.
3. Can you speak any foreign languages?
Sure can.
It's called Colbyese.
Serisouly you try and talk with him. For a nonverbal kiddo he has got his own language and every day I become a little more fluent. Of course the eye gaze and the twisting his body to face what ever direction the object of his desire is in help a whole lot too!
4. How many pairs of shoes do you own?
Hold on a sec and I'll go count.
Okay I'm back.
I have ....... 10 pairs of shoes.
How many of those do I wear regularly? (Can I ask a question back in 5QF?)
1. The red pair of Mary Jane Docs I have on my feet right now.
5. What's your favorite kind of M&M's...peanut, almond, straight up regular, etc.?
Almond hands down. I tried those peanut butter and jelly ones one time. They totally disgusted me. I guess I'm boring.
And because I love this Friday Follow Blog Hop. Here we go for week #3 for me
It's been fun to meet new people and find great new blogs to follow.
Welcome to the Friday Follow celebration hosted by One 2 Try, Hearts Make Families and Midday Escapades! We invite you to join us every Friday to get more blog followers and to follow other interesting blogs. It is all about sharing and having fun.
Here's how YOU can join the celebration:
--Link up your blog name and URL using the MckLinky below. Only need to add on one blog to be seen on all the blog hops.
--Follow the Friday Follow hostesses listed in the first 3 slots.
--Follow as many blogs as you'd like.
--Take a moment to comment on the blogs telling them you're from Friday Follow.
--Follow back when you get a new follower through Friday Follow.
The Blog Hop is the same at each of our three hosts blogs so you do not have to add your blog at each site. Just one - but you can follow each blog. Follow a few or follow them all.
The list is new each week. The links do not carry over. Please link up each week for new participants to find your blogs. The list is only open to add your blog links on Fridays. It will be visible all week to visit the blogs listed.
As hostesses, we realize the time required to participate in Friday Follow. Due to the overwhelming number of entries each week, we understand everyone may not be able to follow every blog including ourselves. To keep it fun, follow what you can at your own pace. We appreciate your understanding and thank you for your continued participation!"
Here is a link to the newest donation button for Colby's fundraising account. This ebook is for fondue recipes.